One of our most popular full blood profiles is our Silver Profile. A quick and easy snapshot of vital aspects of your health.
If you are looking for a blood screening that offers an accurate summary of your current health, including cholesterol levels, glucose level, bone profile, kidney function, liver function and more, our silver blood profile is the test for you, offering exceptional value at just £59.
Created by our head doctor in collaboration with our laboratory, this popular test offers an excellent overview of your health, and will highlight any important issues, allowing you to address imbalances or deficiencies before they develop into more serious health concerns.
It can also evaluate the impact of your current personal lifestyle choices on your body,  and can flag some common underlying conditions that often go undiagnosed, such as anaemia, diabetes and osteoporosis. It can also measure your cardiovascular risks, organ health, vitamin & mineral deficiencies, and much more.
Our blood profile has been featured in the Daily Telegraph, BBC3, & Cosmopolitan magazine.
Our special blood profile covers 40 different markers in total, including:
Full blood count (haematology)
Infection & inflammation markers
Muscle damage
Calcium screening
Potassium level check
Sodium level check
Glucose level check
Please note that all of our blood testing is done privately, with full confidentiality, for you to share with your own doctor when recommended.
What illnesses can this profile help to detect?
Our Silver profile gives you and your doctor sufficient information to indicate the presence or need for further testing for the following conditions:
Anaemia and some other blood disorders
Iron deficiency
Kidney dysfunction
Elevated liver enzymes / liver issues
High cholesterol
High blood sugar / diabetes (consider our Platinum profile for additional testing for diabetes)
Blood Test Packages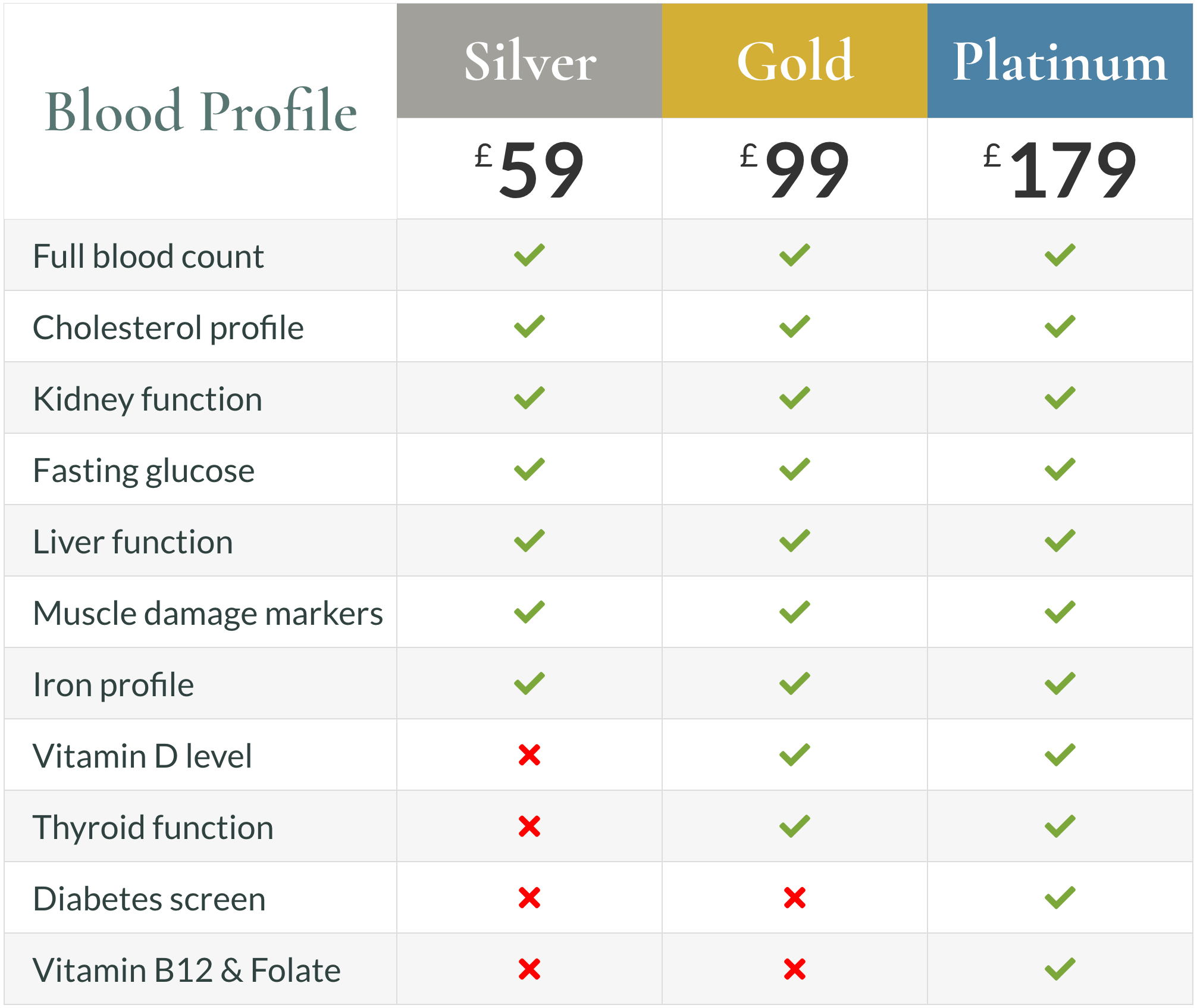 When should I get tested?
This test can be taken at any time and you do not need a referral in order to book.
The blood profile is a great test for providing a general overview of your health and as such can be useful if you have not had a check-up in some time but would like to understand where you're at in terms of deficiencies & normal health markers.
Your doctor may also recommend a blood profile if you are experiencing symptoms but do not have a diagnosis, as it can identify underlying conditions that are affecting your wellbeing.
What does the test include
The full blood profile is a fasting blood test that looks at multiple markers listed above including full blood count, bone profile. kidney and liver function, fasting blood sugar level, cholesterol profile and much more.
What to Expect
Step 1
Preparing for test
For the most accurate results, please have a light dinner the night before, & skip breakfast the morning of your test. If your test is in the afternoon, please avoid eating for 6 hours prior to your appointment. Do ensure to stay well hydrated with water for the most accurate kidney function tests, and to make blood-taking easier. Tea or black coffee is fine to have, without milk or sugar.
This is a simple blood test, for which a small amount of blood will be drawn from a vein in your arm, near the elbow. You will see an experienced phlebotomist. If you have a needle phobia, please do let us know in advance and we will make sure you make adjustments to support you.
Your results will be sent over email as soon as they are ready, or if you are already working with one of our doctors, they will call you directly to discuss the results too.

Please note that this test does not include a consultation and if you would like one of our doctors to go over the results with you, you will need to book this separately. You can also take your results to your own doctor for evaluation, which we encourage.
Pricing
Testing
Harley Street & City Clinic
Prices from

Full blood profile - Silver

£59

Extensive haematology and biochemistry screening including liver, kidney, cholesterol, glucose, full blood count and more.

Extended full blood profile - Gold

£99

A comprehensive overview of your health, a very helpful diagnostic test if you are experiencing tiredness, general aches and pains, numerous other symptoms.

Platinum blood profile

£179

All of the above plus diabetes screen, vitamin B12 and folate

Beta HCG (pregnancy)

£49

Pregnancy blood test

Prostate specific antigen (PSA)

£75

Thyroid function test profile

£95

HBA1c

£85

Mid-stream Urine test

£95

Liver function profile

£75

Kidney function

£75

Allergies

£35

Per Allergen

INR

£95

Female Hormone Screen

£195

Blood group and antibody screen

£75

Male Hormone Screen

£195

Progesterone

£75

Oestradiol

£75

Prolactin

£75

Cervical Smear and HPV

£195

Turnaround time: 5 - 7 days