If you are looking for a blood screening that offers an accurate summary of your current health, including cholesterol levels, kidney function, liver function, & much more, our signature blood profile is the test for you, offering exceptional value.
Created by our head doctor in collaboration with our laboratory, this popular test offers an excellent overview of your health, and will highlight any important issues, allowing you to address imbalances or deficiencies before they develop into more serious health concerns.
It can also evaluate the impact of your current personal lifestyle choices on your body,  and can flag some common underlying conditions that often go undiagnosed, such as anaemia, diabetes and osteoporosis. It can also measure your cardiovascular risks, organ health, vitamin & mineral deficiencies, and much more.
Our blood profile has been featured in the Daily Telegraph, BBC3, & Cosmopolitan magazine.
Our special blood profile covers 40 different markers in total, including:
Full blood count (haematology)
Infection & inflammation markers
Muscle damage
Calcium screening
Potassium level check
Sodium level check
Glucose level check
Please note that all of our blood testing is done privately, with full confidentiality.
Blood Test Packages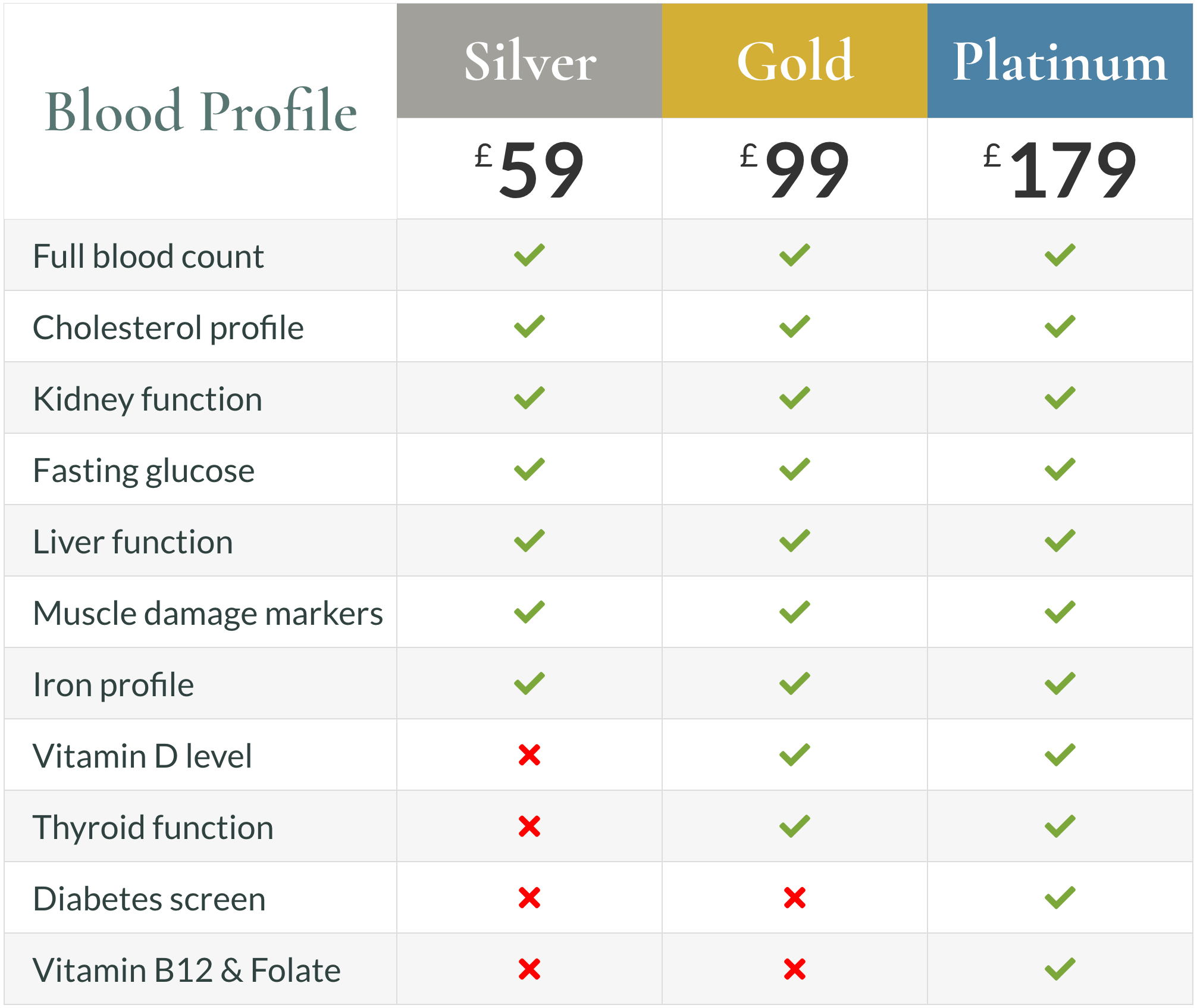 When should I get tested?
This test can be taken at any time & you do not need a referral in order to book.
The blood profile is a great test for providing a general overview of your health, & as such can be useful if you have not had a check-up in some time but would like to understand where you're at in terms of deficiencies & normal health markers.
Your doctor may also recommend a blood profile if you are experiencing symptoms but do not have a diagnosis, as it can identify underlying conditions that are affecting your wellbeing.
What does the test include
The full blood profile is a fasting blood test.
What to Expect
Step 1
Preparing for test
For the most accurate results, please have a light dinner the night before, & skip breakfast the morning of your test. If your test is in the afternoon, please avoid eating for 6 hours prior to your appointment. Do ensure to stay well hydrated with water. Tea or black coffee is fine to have, without milk or sugar.
This is a simple blood test, for which a small amount of blood will be drawn from a vein in your arm, near the elbow.
Your results will be sent over email as soon as they are ready, or if you are already working with one of our doctors, they will call you directly to discuss the results.

Please note that this test does not include a consultation, & if you would like one of our doctors to go over the results with you, you will need to book this separately. You can also take your results to your own doctor for evaluation.