(Please note that Wellman screenings cannot be booked online – please call or email us to make your appointment).
We strongly believe that a preventative care regimen is the best way to maintain optimum health. We have conducted over 7,000 Wellman medicals since they launched, providing peace of mind and tailored, personalised advice, plus extensive facetime with an experienced doctor to iron out all of your health issues and concerns. Together, we make a plan, organise specialist referrals if needed, run multiple tests to see how you're doing and give you lifestyle advice tailored to you.
Our popular Wellman medicals have been designed to give you the best possible preventative care. Providing an overview of your health and an evaluation of any health risk factors, we also look at your family history and what illnesses you may be predisposed to, advising you on the lifestyle measures, any medication management and screening frequency you need to be aware of.
Each one of our Wellman screenings includes:
90 minutes with an experienced doctor
a full head-to-toe physical examination
a lifestyle assessment and discussion
family and past medical history assessment
A resting electrocardiogram that looks at your heart health
A heart risk calculation called Q Risk
extensive blood testing
A detailed, personalised report written from scratch, just for you
A follow-up telephone consultation with your GP to go over all of the blood result findings
a free repeat full blood profile within 6 months to keep track of your markers
All of our Wellman examinations include our Platinum Blood Profile:
Full haematology profile
Full cholesterol testing
Kidney function testing
Muscle damage markers
Infection & inflammation markers
Calcium & potassium levels
Sodium level
Full iron & ferritin profile
Glucose level
Vitamin D level
Thyroid Function Screen
Prostate-specific antigen (where clinically indicated)
Diabetes screen
Vitamin B12 and folate
To suit our patient's individual needs, we offer the following Wellman packages, all of which include our Platinum full blood profile:
Silver Wellman – £495
The Silver Wellman is a great value package, providing a great overview of health. It includes a lifestyle assessment, family history and medical history consultation, a full head-to-toe physical examination, resting electrocardiogram, and our Platinum full blood profile package as detailed above.
Gold Wellman – £695
Worried about your testosterone and hormone levels, or are you experiencing symptoms you think are connected to possible hormone imbalance? In addition to the above, our Gold Wellman offers a comprehensive male hormone screening. Hormone testing is recommended routinely for men over the age of 40 and is also often recommended for men experiencing certain symptoms such as a lack of vitality, fatigue and ED.
Our male hormone profile includes FSH, LH, Testosterone, SHBG, Free Androgen Index, DHEA Sulphate, Prolactin and Glucose. Hormone screening can provide you with more information regarding symptoms related to sex drive, vitality, erectile dysfunction, fatigue and more.
Platinum Wellman – £940
The Platinum Wellman is perfect if you are especially interested in your heart health. It includes everything provided in the Gold Wellman, plus an additional advanced cardiovascular risk blood panel, a specialist cardiology panel that looks in depth at the markers relating to your heart health and risk.
Diamond Wellman – £2,315
Our Diamond Wellman includes everything within the Platinum Wellman, plus a three-site preventative ultrasound screening of the abdomen (and aorta), testicles and prostate. A truly comprehensive health screening package that looks at your health and risk from the inside out.
Add-on screening
We offer thousands of different tests at the Harley Street Health Centre, including these commonly requested add-on screenings:
Full sexual health screen – £125 (add-on price)
Cancer tumour markers
Exercise ECG (treadmill)
Faecal Occult Blood
Chest x-ray for smokers or ex-smokers
And more  – just speak to our team and your doctor, and you can agree on the best testing to suit you.
To book a Wellman appointment, please call us or email; our team will be delighted to help you on this journey.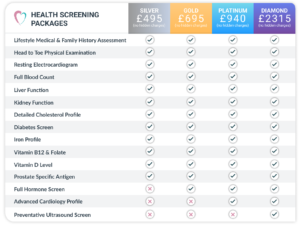 When should I get tested?
Our Wellman examinations can be performed at any time, whether you are experiencing symptoms or are feeling well.
Either way, our health check packages will give you an excellent overview of your health, & in the event of any imbalances or deficiencies, we will provide you with an experienced medical opinion on the best possible care.
What to Expect
Step 1
Preparing for test
The extended full blood profile is a fasting test. We advise you to have a light dinner the night before the medical & skip breakfast the following morning. However make sure you keep yourself hydrated by drinking a sufficient amount of water. You can have tea or black coffee without milk or sugar. If your appointment is in the afternoon, please avoid food for 6 hours.
If you are planning to have a urine test as a part of your medical it is helpful to arrive with a full bladder to give your urine sample.
Your Wellman consultation will include a discussion with the doctor regarding your lifestyle, family history & medical history, as well as a head-to-toe physical examination & resting electrocardiogram. Blood & urine samples will also be taken.
Your full results will be available within seven working days. Depending on your preference, you can receive a call to discuss any immediate findings within 24 hours, & results can also be sent over email, through the post, or in person. Comprehensive written report or a consultation to discuss the findings is included in the price of your package.
Wellman Prices
Health Screening Packages for Men
Harley Street & City Clinic
Prices from

Silver Wellman

£495

Full head to toe physical examination, lifestyle assessment, medical and family history plus our Platinum Blood Profile and much more.

Gold Wellman

£645

Full head to toe physical examination, lifestyle assessment, medical and family history plus our Platinum Blood Profile and comprehensive male hormone screen.

Platinum Wellman

£940

Full head to toe physical examination, lifestyle assessment, medical and family history plus our Platinum Blood Profile, comprehensive male hormone screen and heart health blood profile.

Diamond Wellman

£2315

Full head to toe physical examination, lifestyle assessment, medical and family history plus our Platinum Blood Profile, comprehensive male hormone screen and heart health blood profile. Plus a 3-site preventative ultrasound screening.

Add-on sexual health screen

£125

A full sexual health screening added onto any Wellman screening

Sexual health screen

£215

A stand-alone sexual health screening booked without a Wellman health screening.

Erectile Dysfunction Package

£395