We know that many of you are looking to better understand your health, from causes of tiredness and low energy to keeping track of vital health markers.
Our increasingly health-conscious patients are also keen to know more about markers like vitamin D and B12 and what impacts their vitality. The growing emphasis on preventative healthcare and patients taking control of their own health through testing and lifestyle improvements is a welcome trend.
The Platinum Blood Profile includes:
Full detailed blood count
Inflammatory markers
Kidney function screen
Liver function screen
Lipid profile (cholesterol breakdown and triglycerides)
Iron screen
Diabetes screen
Vitamin B12 and folate
Vitamin D
Thyroid function screen
What are the benefits?
Early detection of illnesses and issues such as anaemia, kidney and liver dysfunction, low iron, thyroid dysfunction, elevated cholesterol, low vitamin D, diabetes and much more
Managing risk and effective screening, especially if you have a past medical history or family history that could impact your health
Helpful diagnostic tool to add to your consultation with us or to provide to your own doctor
Peace of mind!
Blood Test Packages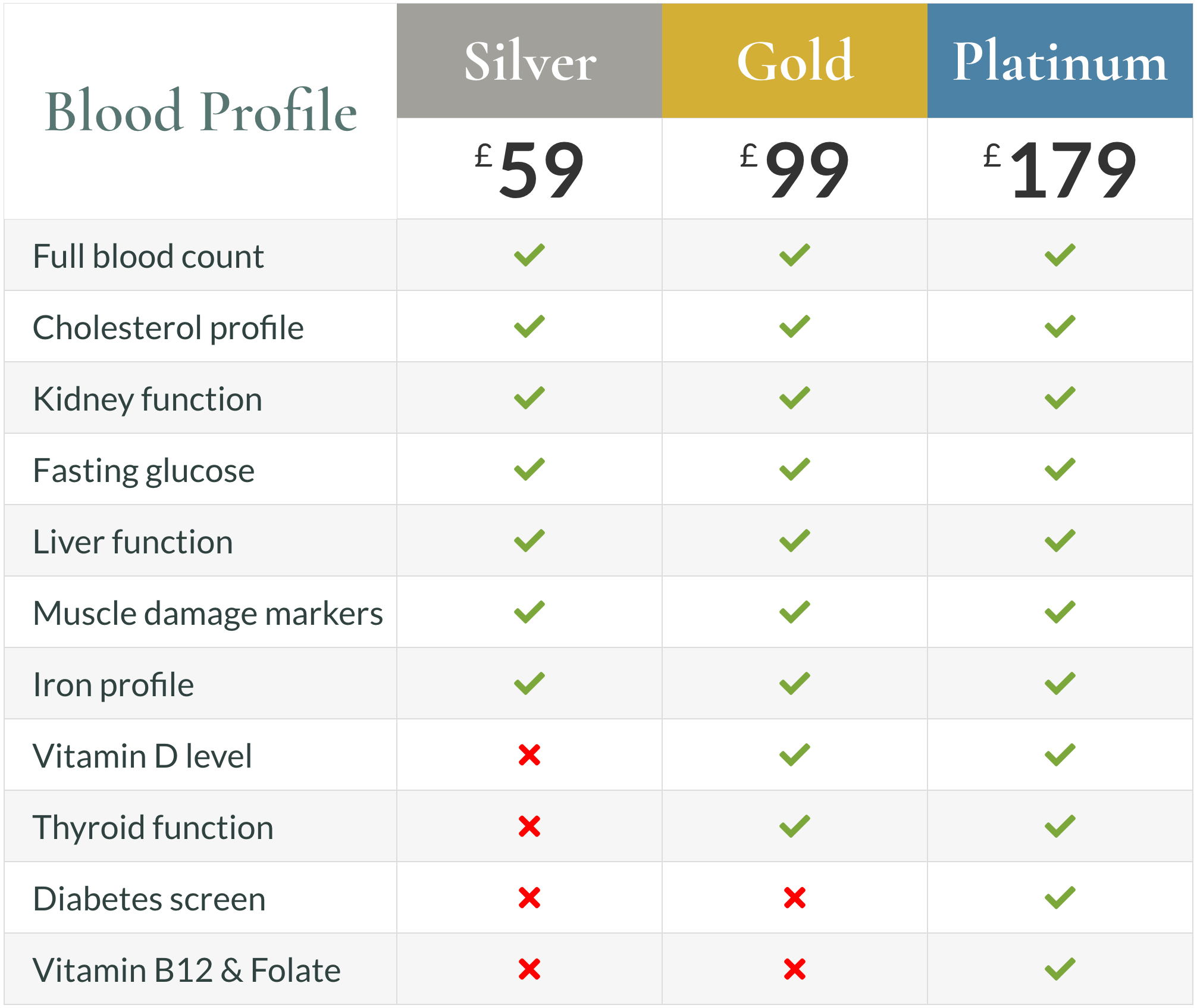 Similar services
What to expect
Step 1
Requirements & preparation
For this test, you should be fasting but well-hydrated. The morning is a good time to have this test, having fasted overnight and skipped breakfast. But you can also fast for 4 - 6 hours during the day and pop in at a suitable time.
The procedure is a quick and easy blood test with one of our experienced phlebotomists or nurses.
You'll receive your results by email within 24 hours. If your results are abnormal, a doctor will call you to discuss further.
Platinum Full Blood Test Video
Questions about our Platinum Blood Profile
How long does the appointment take?
Our experienced phlebotomists will have you in and out within 15 minutes!
How will I receive my results?
You will be sent your results by email through our confidential patient management system.
What if my results are abnormal?
If your results need to be discussed with you, one of our doctors will give you a call to take you through them and advise you on next steps. You are then welcome to return to us to continue your care or take your results to your GP / specialist for further management. If there is a simple abnormality on your results, our doctors will provide a note with your results.
How long does it take to receive my results?
You'll have your results within 24 hours.
Blood tests
Testing
Harley Street & City Clinic
Prices from

Full blood profile - Silver

£59

Extensive haematology and biochemistry screening including liver, kidney, cholesterol, glucose, full blood count and more.

Extended full blood profile - Gold

£99

A comprehensive overview of your health, a very helpful diagnostic test if you are experiencing tiredness, general aches and pains, numerous other symptoms.

Platinum blood profile

£179

All of the above plus diabetes screen, vitamin B12 and folate

Beta HCG (pregnancy)

£49

Pregnancy blood test

Prostate specific antigen (PSA)

£75

Thyroid function test profile

£95

HBA1c

£85

Mid-stream Urine test

£95

Liver function profile

£75

Kidney function

£75

Allergies

£35

Per Allergen

INR

£95

Female Hormone Screen

£195

Blood group and antibody screen

£75

Male Hormone Screen

£195

Progesterone

£75

Oestradiol

£75

Prolactin

£75

Cervical Smear and HPV

£195

Turnaround time: 5 - 7 days