Gold Blood Profile
Building on the base of our signature Silver full blood profile, which offers a general overview of your health, we now also offer an extended blood test, the Gold Profile, which includes Vitamin D levels & thyroid function testing.
These added measures can help diagnose symptoms related to energy and vitality, aches and pains, and more.
If you are unsure of what kind of test you need, please speak to one of our doctors who can help you devise the correct level of testing.
The extended blood test covers:
Full blood count to exclude anaemia and other blood disorders
Kidney function
Liver function
Calcium and bone profile
Iron profile
Cholesterol and triglycerides profile
Fasting blood glucose
Thyroid function screen
Vitamin D level
To book, please call us or book using our quick and easy online booking engine.
Blood Test Packages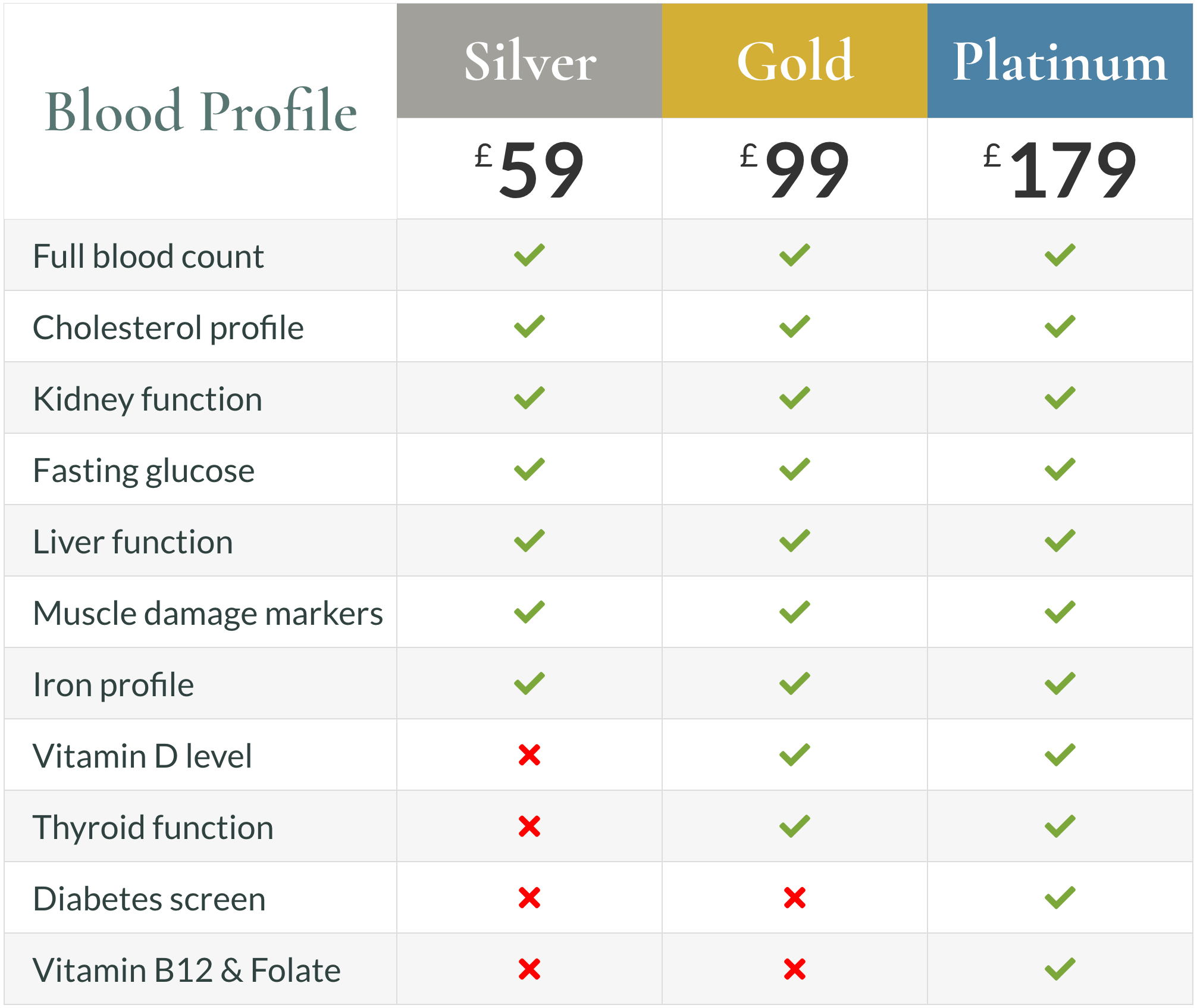 When should I get tested?
The extended blood test offers a solid overview of your health with extended measures to cover a wide range of symptoms.
There is no need to have a referral in order to book this test, & you can take it at any time.
This test can be helpful as a routine check-up method, & will give you an idea of where you're at in terms of any deficiencies or potential health risks.
You may be recommended this blood profile by a doctor if you are experiencing undiagnosed symptoms, to help identify any underlying conditions that are affecting your health.
What does the test include
The extended blood profile is a fasting blood test.
What to Expect
Step 1
Preparing for test
If your test is in the afternoon, you should avoid food for 6 hours in advance of your appointment. For a morning appointment, please have a light dinner the night before, & skip breakfast prior to your test. It is important to stay well hydrated, so drink plenty of water. It is fine to have plain tea or black coffee (without milk or sugar).
This test is a simple blood test. A small amount of blood will be drawn from a vein in your arm, near the elbow.
Your results will be emailed to you as soon as they are ready. If you have already had a consult with one of our doctors, they will call you to discuss the results. Please note that the test does not automatically include a consultation. If you would like to discuss your results & didn't have a consultation with one of our doctors beforehand, please book this separately. You can take your results to your own doctor for evaluation also.