Therapy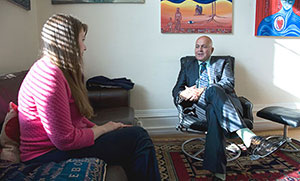 The Harley Street Health Centre's unique in-house therapy service allows our therapists to receive referrals from our doctors, specialists and self-referring clients. The combination of medical practitioners and experienced therapists means we are able to provide an all-encompassing and holistic approach to emotional wellbeing where this is needed. It also means we can tailor our approach to the client's needs and preferences by drawing on the expertise of different disciplines under one roof.
Our head therapist, Dr Ali Shakir works with colleagues to provide clients with a confidential, caring and professional service rooted in an empathic and client-centred approach.
We hope this section of our website gives you an idea of who we are and what we do.
The process:
If you would like to come and see us, make an appointment for an initial assessment which lasts 1 ½ hours by calling us. This session gives us a chance to understand how you would like therapy to help you and gives you a chance to explore whether you feel you can work with the therapist. Following, regular sessions can be arranged and the length of therapy is usually decided at the time of the assessment and reviewed on an ongoing basis. Both short and long-term therapy is available.