Many of you may have had your COVID-19 vaccine and/or had a previous COVID-19 infection. You may have already had a Roche quantitative antibody test and tested negative, or with a lower antibody level than expected. You may just want a more complete picture of your immune response. The COVID-19 T-Cell test offers additional insight into your experience with COVID-19 and can sometimes diagnose a previous infection if you tested negative for antibodies.
A really helpful development from the scientists at Oxford Immunotec that we are now happy to provide our patients. This new T-Spot test has been used also by the Oxford Vaccine Group in testing vaccine efficacy and in various studies and we are confident it will provide a helpful additional diagnostic tool for our patients.
As we navigate through this chapter of the pandemic, knowing our individual immunity status has become more important. We know that optimal immunity against COVID-19 is achieved through the presence of both T-cells and IgG antibodies against the virus.
The T-SPOT.COVID test identified 51% more PCR Positive individuals than serology testing alone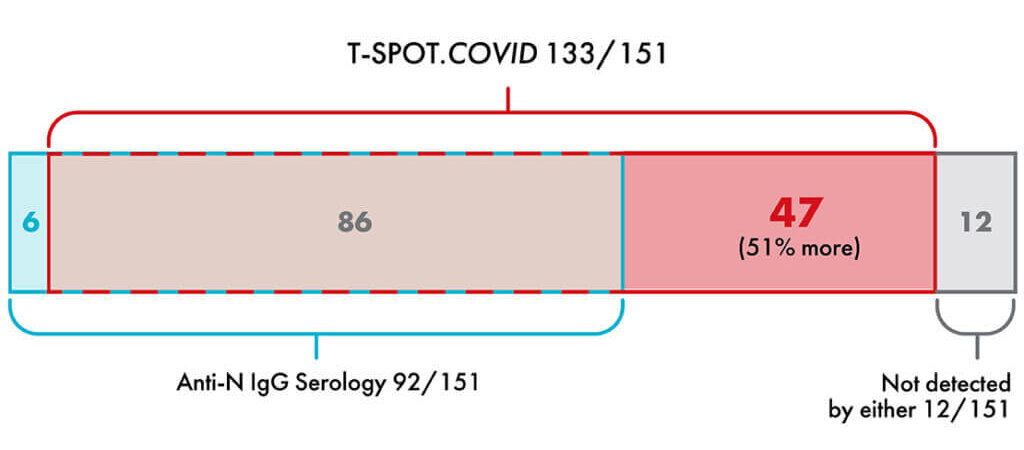 The T-SPOT.COVID test had a higher positive agreement with PCR results than serology
The clinic is providing the COVID T-spot test with a 3-day turnaround at £129 as well as a package with the Roche Quantitative Antibody test for £199.
Call our clinic to book your test today.
T-spot.COVID FAQs
When should I have my T-cell test?
Research is not clear on exactly when T-cells are developed after a COVID-19 infection but research has found 100% positive agreement with a positive PCR test 7 - 14 days after infection. After vaccination, it is recommended to test 4 - 6 weeks after your dose.
Can I have a Roche Quantitative Antibody test at the same time?
Yes, we can run both tests using the same blood draw. Our package for both tests costs £245.
What will the T-cell test tell me that the antibody test does not?
Research suggests that a fuller picture of your immune response can be seen with both T-cell and antibody testing used together. T-cells are believed to last for longer and are detectable even if antibody levels are not at a detectable level. The presence of T-cells can tell you definitively whether you have had a COVID-19 infection, even if you tested negative on an antibody test.