Women's Health
We need to talk about cervical screening
99.8% of cervical cancer is preventable
04/11/2022
Cervical cancer is common, can be fatal but is also preventable. In this blog we explain why cervical smear tests are so important and what to expect.
There has been a lot in the press about cervical smears, and we know many women avoid having smears because they are worried they will be painful. So we want to take this opportunity to inform women of their importance and provide some reassurance.
OK, so let's get to it.
Cervical smears are effective at preventing cervical cancer – there is no doubt about this.
Here are some key stats to begin with:
1 in 142 women in the UK will be diagnosed with cervical cancer at some point in their lifetime.
Of those, 99.8% of cases of cervical cancer are preventable.
8% of cases are caused by infections
Cervical cancer had a 51% survival rate in the UK from 2013 – 2017
This means that cervical cancer is common and can be fatal but is also preventable.
But how does a cervical smear prevent cervical cancer?
When we talk about prevention, what do we mean?
A cervical smear and HPV screening look for two things:
Abnormal cells in the cervix
The presence of a virus called Human Papilloma Virus that causes nearly all cervical cancer
The reason a routine cervical smear helps to prevent cervical cancer is that it allows us to intervene early when there is the presence of any abnormality. There are several stages of cervical cancer, from stage 1 to stage 4.
The progress of developing cervical cancer from the point of being infected with a high-risk HPV subtype is slow – around 10 to 20 years. And once cells begin to show abnormalities, it can take several years for this to progress to invasive cervical cancer.
This means that through routine cervical smear testing and HPV screening, we can catch abnormal cells early and refer them for colposcopy. This procedure looks closely at your cervix and determines what treatment will be needed. It gives you the opportunity for early intervention and prevention of cancer development.
What is HPV screening?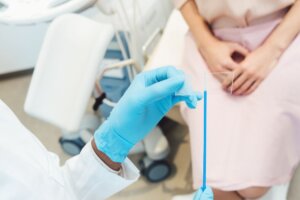 HPV screening is essential because there are many subtypes of this virus – 13 of which have been linked to cervical cancer, but 70% of cases are linked to two main subtypes, 16 and 18.
If your HPV screening is positive for a high-risk subtype, you will be advised to have a smear test more frequently as you are at a higher risk of developing cervical cancer.
Does a cervical smear test hurt?
A cervical smear test is not comfortable, but it is rarely painful. In experienced hands, it is a very quick and painless procedure where the main discomfort comes from using a speculum. If you find the insertion of a speculum painful, you may have other issues, which is also helpful to speak to a clinician about.
Do I need to be referred by my GP for a cervical smear test with you?
No, you can refer yourself for a cervical smear test with us. Our expert nurses will consult with you to ensure you are testing at the right time, take your history and understand whether you are experiencing any symptoms.
What if my results are abnormal?
If your results are abnormal, we can refer you fast-track to a private consultant gynaecologist or refer you to the NHS for support if you prefer.
When is the best time to have my smear test?
For the most accurate result, we recommend you have your cervical smear test mid-cycle (mid-way between periods).
Is the HPV screening a separate procedure?
No, the same sample taken for your cervical smear test is used to test for HPV.
Book online or call us today.