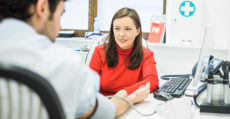 The New Year is always an excellent opportunity for a fresh start. If you want to make 2017 the year you get a handle on your health, we recommend starting with an MOT, a great gift to yourself or a loved one.
Our seasonal special New Year MOT combines a thorough appointment with one of our experienced GPs and extensive blood testing that covers:
Full haematology profile
Full cholesterol screen
Kidney function screen
Liver function screen
Calcium screen
Potassium level
Sodium level
Iron profile
Glucose level
Vitamin D
Thyroid Function Screen
All the results of the blood testing will be available within 8 hours from your visit at the clinic and the doctor will give you a follow up call to explain you the results and suggest the most appropriate next steps to maintain your health, understand your risk factors or get your health back on track.
Follow up with another MOT in the New Year in 2018 and check your progress.
Would you like to give your medical an extra boost?
In that case we can offer you an optional add ons at discounted prices:
Full sexual health screen (£145) testing for: HIV, Hepatitis B, Hepatitis C, Syphilis, chlamydia, gonorrhea and bacterial infections
Female Hormone screen (£90) testing for: FSH, LH, Oestradiol, Progesterone, Prolactin, Testosterone, SHBG and Free Androgen Index
Male hormone screen (£90) testing for: FSH, LH, Testosterone, SHBG, Free Androgen Index, DHEA Sulphate, Prolactin, Glucose
If you would like to book the New Year MOT or arrange it as a gift to your loved one please call or email us for more details.