Sexual Health Clinic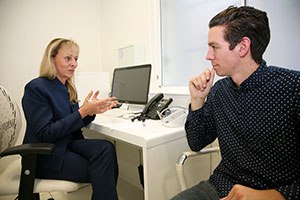 The Harley Street Health Centre is exceptionally experienced at providing sexual health services for all circumstances. We offer the latest recommended testing, offer in-house treatment for some infections and have a good relationship with sexual health specialists for more complex conditions. We offer a discreet, non-judgemental and confidential service, with full sexual health screening and individual tests by an experienced doctor, with excellent follow-up and fast turnaround times for test results.
We aim to get your results to you by telephone, collection, post or email (your preference) as quickly as possible, with most blood test results available within 4 – 6 hours, and chlamydia and gonorrhoea tests in just one working day.
We offer a full range of sexual health packages and individual STD tests including early detection multiplex testing for HIV and hepatitis, HIV antibodies, chlamydia, gonorrhoea, herpes, syphilis and bacterial infections. Feel free to call or email the clinic and book an appointment with an experienced doctor to discuss your concerns and get advice on the right testing for your individual circumstances.
If you are sexually active you should get regular checks at a sexual health clinic; and particularly following unprotected sex, whether you are showing symptoms or not. The benefit of getting tested allows for peace of mind and if you are positive for an infection, early detection and treatment can prevent development of the disease into something more serious, or passing the infection onto other sexual partners. Most sexually transmitted diseases can be treated easily with antibiotics.
Benefits of using our service:
• Peace of mind, with same-day appointments and a walk-in service available
• Consultation, advice, and sample-taking with a knowledgeable doctor
• Outstanding discretion and confidentiality
• Fast results delivered to you via telephone consultation with a doctor if desired, included in your test fee
• Any necessary prescriptions included in your test fee
Our Sexual Health Clinic Services