Sexual health testing is one of our specialisms, and we have helped people gain peace of mind and treatment since 1998. We have two sexual health specialist nurses and knowledgeable GPs who can recommend the right testing for you at the right time.
For peace of mind regarding your sexual health, our full sexual health package is a comprehensive screening covering all the major and most common sexually transmitted diseases, including chlamydia, gonorrhoea, Hepatitis B and C, syphilis, and HIV.
We also offer a range of add-on swabs that your doctor or nurse might recommend if you are symptomatic or have specific concerns.
The cost of this package is £215. If you have no symptoms and are testing for peace of mind, there is no consultation fee.
However, if you have any symptoms, please note that a consultation fee of £85 with a specialist nurse or £175 with a GP is paid. This ensures that you are testing for the appropriate infections at the right time and have access to the proper treatment once testing is concluded.
When should I get tested?
It is always recommended that you have a full sexual health screening if you notice symptoms or have a new sexual partner.
You may also want to have the test if you have had sex with someone who has been diagnosed with an STI or if you have any other concerns about your sexual health.
If you have multiple partners, it is recommended that you get tested every three to six months as a safety measure.
What does the test include?
The Comprehensive Sexual Health Screen includes a blood test (HIV, syphilis, hepatitis B, hepatitis C) and urine test (chlamydia and gonorrhoea).
What to Expect
Step 1
Preparing for test
Please arrive well-hydrated to ensure ease of taking your blood sample, and with a full bladder. For women, it is advised that you do not book the test on a day when you have your period.
Your test involves a consultation with an experienced sexual health professional, who will ask you about your medical and sexual history, and discuss the various testing options with you. They will ask you questions about contraception, your sexual partners and practices, and other questions about your sex life.

We observe a strict confidentiality policy, and all of the information given during your visit will be treated with the utmost care.

No personal details or test results will be shared with anyone outside of the sexual health service without your permission. After the consultation, an examination will be performed, and your blood, urine, and swab samples were taken.
It is entirely up to you how you want to receive your results. You can receive a telephone call from the doctor who examined you, or they can be sent by email. You can also have them in hard copy through the post, or come in to collect them in person.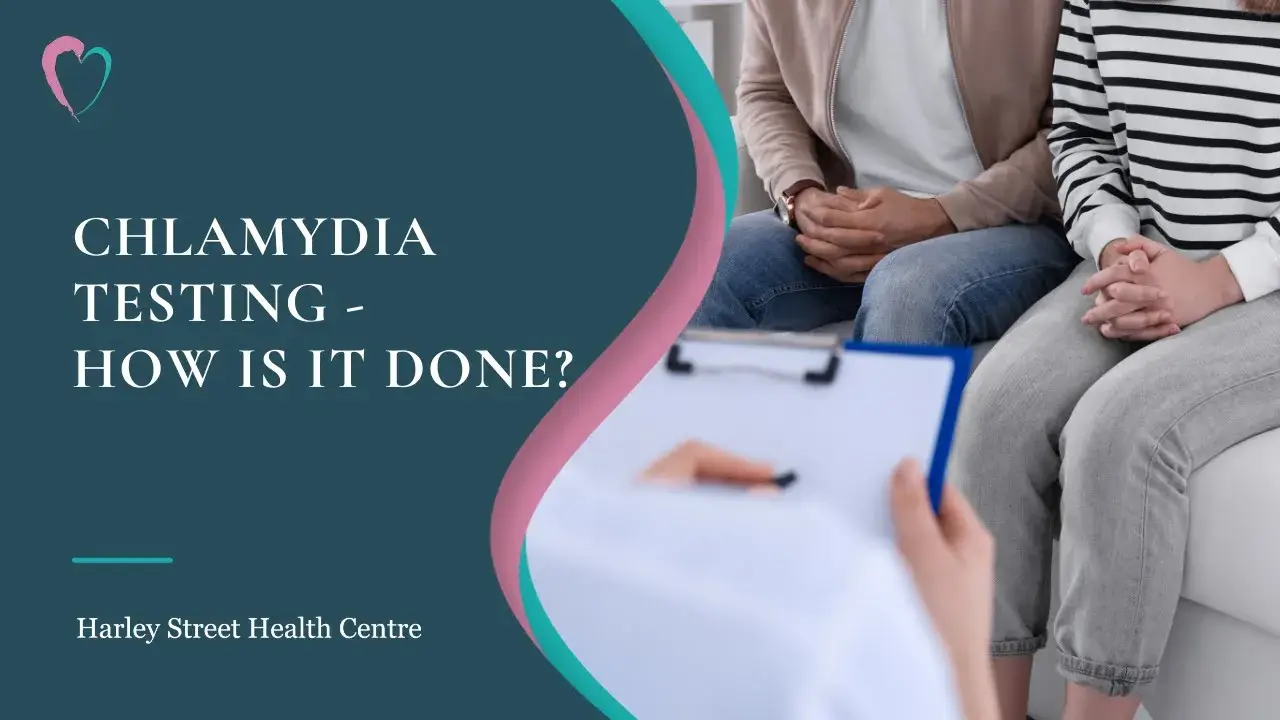 FAQs
I am not experiencing symptoms, why do I need to get a sexual health check?
Not all STDs present with symptoms. Chlamydia, for example, one of the more common infections, can develop in the body without any symptoms at all, but if it is left untreated, it can lead to pelvic inflammatory disease, which scars the fallopian tubes and can cause infertility.
I am experiencing some sexual symptoms, but I'd rather not get tested. Is there a chance they will clear up on their own?
If you have contracted an STD, you will need to have medical treatment, usually in the form of antibiotics, to clear it up. Unlike cervical cell changes, for example, which sometimes clear up on their own, infections only get worse.
Does my partner need to be tested?
If it has been some time since you or your partner have been tested, or if either of you is noticing symptoms, it is recommended that you both have a sexual health screen.